I occasionally hold special promotions and offer discounts or special programs to give back to mine valued customers. Check back and visit this page from time to time to see current special offers which you can take advantage of when you visit me. If you want to be the first to know when new programs and deals are offered, please
sign my guestbook
to receive my e-newsletter.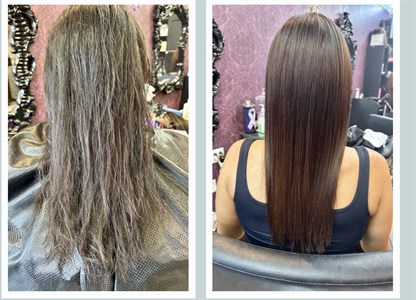 Special Offer
MK Botox Treatment for the Hair Special
Bring your hair back to life.
Receive Free MK Shampoo and Conditioner with MK Botox Treatment a 70.00 value.
The most advanced hair repair, anti-aging + smoothing formula worldwide. repairing the damaged & broken hair fibers with a powerful concentrate of active ingredients including Caviar Oil, Amino Acids, Natural Proteins & Argan Oil.
Guaranteeing to moisturize, nourish, repair & revive hair right from the very first use, resulting in incredible shine & softness while eliminating frizz.
The results are progressive & cumulative as the quality of the hair becomes healthier, improving after each application.
MK HAIR B.T.X treatment is Formaldehyde + Harsh Chemical free creating a completely safe environment . The treatment doesn't produce any bad fumes and smells unlike ordinary keratin treatments, making the application comfortable and completely safe.
KEY RESULTS:
* Restore the damaged Cortex and fill all gaps
* Hair Become Fuller and Thicker
* Smooth hair and create natural shine
* Eliminating Frizz
* Stimulate new hair Growth
* Brings your hair back to life
Act Now! Offer Ends: 5/31/2023